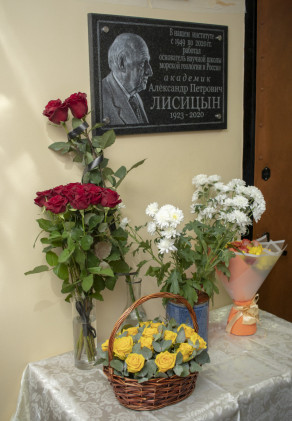 On February 11, 2021, on the anniversary of the death of Academician Aleksandr Petrovich Lisitsyn, a memorial plaque was opened at the Institute of Oceanology near his office by the staff of the Laboratory of Physical and Geological Research, which now bears the name of the academician.
The opening was attended by the relatives of Alexander Petrovich: his son Nikolai Alexandrovich, grandson Alexander Petrovich, cousin Professor Alexander Pavlovich Ettinger and nephew Academician Andrey Borisovich Lisitsyn. Despite the epidemiological situation, many employees of the Institute, colleagues, students of A.P. Lisitsyn gathered on the sixth floor.
Director of the Institute Aleksey Valentinovich Sokov, Scientific Director of the Institute Academician Robert Iskanderovich Nigmatulin, Academician Mikhail Vladimirovich Flint, Deputy Director of the Federal Research Center for Biotechnology of the Russian Academy of Sciences Nikolai Viktorovich Pimenov recalled Aleksandr Petrovich. Professor Alla Yulievna Lein made a proposal to petition the Ministry of Science and Higher Education of the Russian Federation for the new scientific vessel to be named after Academician Alexander Petrovich Lisitsyn.
The event ended with long applause in memory of Alexander Petrovich.