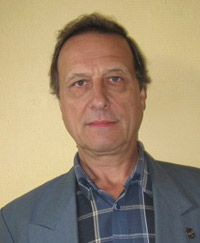 On April 01, 2021, the senior researcher of the Laboratory of Experimental Ocean Physics, one of the veterans of our Institute, Sergei Georgievich Poyarkov, turned 75 years old.
S.G. Poyarkov graduated from the Department of Oceanology, Faculty of Geography, Lomonosov Moscow State University in 1968. The desire to study the Ocean led him to the Institute long before graduating from the University - in 1963. He worked as a laboratory assistant, senior laboratory assistant, junior research assistant, research assistant, and since 1992 - senior research assistant. With his broad professional outlook, Sergei Georgievich showed himself in many scientific areas - he was engaged in hydrochemistry and the physics of the Ocean, did a lot in the field of methods of oceanological research and work with data.
Sergey Georgievich is one of the most experienced field researchers of the Institute and the main results of his scientific activity are associated with field expeditionary studies of the World Ocean and the seas of Russia. He participated in more than 30 scientific voyages on large sea vessels, as well as in a number of coastal marine expeditions. Along with the ability to quickly solve scientific and technical problems of various levels of complexity, Sergei Georgievich has excellent organizational skills. These qualities put him in the leadership of the Institute's annual expeditions to the seas of the Russian Arctic (Karskoye and Laptevs), for which he spares neither effort nor time.
Poyarkov has published more than 50 scientific articles in publications included in the RSCI, WoS and Scopus databases, in which he proved himself to be a deep specialist who perfectly understands the Ocean. He was a key executor of many Russian and international scientific projects, complex contractual work carried out by the Institute.
Sergei Georgievich is not only a versatile and qualified oceanologist and talented organizer, but also an unusually sympathetic and kind comrade, always ready to help his colleagues and numerous friends from the Institute.
Colleagues, friends, directorate of Shirshov Institute of Oceanology of RAS, the editors of scientific journals accredited at the Institute congratulate Sergei Georgievich on his 75th birthday, wish him health and well-being, inexhaustible energy for further creative victories for the benefit of Russian science, new experiments and unique research results.