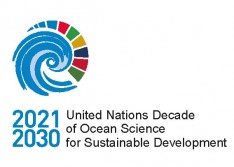 On December 6, 2017, at the initiative of the UNESCO Intergovernmental Oceanographic Commission (IOC), the UN General Assembly decided to "proclaim the 10-year period beginning January 1, 2021, as the United Nations Decade on Ocean Science for Sustainable Development" (A/RES/72/73).
The UNESCO/IOC has formed an Executive Planning Group (EPG) for the preparation of the draft Program of the Decade, which included a member of the IO RAS S.M. Shapovalov. Program development will continue for two years.
For authors of scientific publications:
The editorial staff of the Journal of oceanological research has created a new thematic section on work in the field of the UN Agenda 2030, to achieve the goals of which the "Decade of Ocean Science" program is aimed.
The name of the new section: "Ocean and sustainable development".