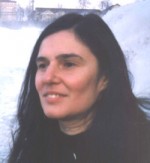 Head: Prof. Elena V. Ivanova
Main publications by Elena V. Ivanova
E-mails: This email address is being protected from spambots. You need JavaScript enabled to view it. and This email address is being protected from spambots. You need JavaScript enabled to view it.
The main areas of research
High-resolution paleoceanographic reconstructions in oceans and seas
Quaternary sedimentation in the World Ocean
Contourite systems and bottom-water circulation in the Atlantic during the Neogene-Quaternary time
Global and regional correlations
Mechanisms of climate change
Climatic teleconnections
The Great Conveyor Belt and the Laboratory of Paleoceanography study areas

Recent projects (2012-2017)
Program of Basic Research at P.P.Shirshov Institute of Oceanology, project 0149-2014-0029 "Lithology, stratigraphy and paleoceanography of the Atlantic and Pacific oceans" (PI: E. Ivanova and I. Murdmaa, 2013-2019).
Program of Basic Research «The World Ocean - multi-phase, multi-scale, multi-component» by Presidium of the Russian Academy of Science, project: Deep-water contourite systems of the Atlantic Ocean" (PI: I. Murdmaa, and E. Ivanova, 2015-2017).
Program N 23 "Basic problems in Oceanology" by Presidium of the Russian Academy of Science, project: Investigation of the Quaternary contourites and turbidites along the transatlantic geotransect" (PI: I. Murdmaa, and E. Ivanova, 2012-2014).
Russian Science Foundation project 14-50-00095 "The World Ocean in the XXI century: climate, ecosystems, resources and disasters"( climatiс branch coordinator S. Gulev, 2014-2018)
Russian Foundation for Basic Research project 12-05-00617a "Postglacial paleoceanographic events in the Russian Seas" (PI - E. Ivanova, 2012-2014)
Russian Foundation for Basic Research project 11-05-01000_a: Theoretical and empirical research of the oceanic segment of sedimentosphere (PI- I. Murdmaa, 2011-2013)
Russian Foundation for Basic Research project 14-05-31357 mo l"Contourites on the continental rise in the northwestern Argentine Basin and the southwestern Brazil Basin" funded by the Russian Foundation for Basic Research, (PI – D. Borisov , 2014-2015)
Russian Foundation for Basic Research project 12-05-31118 mol «Variations of paleoceanographic conditions in the northern (Subarctic) and eastern equatorial Pacific» (PI - E. Ovsepyan, 2012-2013).
Russian Foundation for Basic Research project 14-05-00744а «Empirical and theoretical research of the deep-water sedimentation by bottom currents and low-density gravity flows in the Atlantic Ocean: examples from continental rise, abyssal plains, depressions of the Mid-Atlantic Ridge" funded by the Russian Foundation for Basic Research» (PI- I. Murdmaa, 2014-2016).
Russian Foundation for Basic Research project 16-35-60111 mol_dk «60111 "Quaternary sedimentation on the Ceara Rise (Equatorial Atlantic): a look from the contourite paradigm viewpoint" » (PI- D. Borisov, 2016-2018).
Russian Foundation for Basic Research project 16-05-00063 mol_dk «Millennial-scale events in the Middle-Late Pleistocene history of the Bering Sea from micropaleontological, lithological and geochemical records» (PI - E. Ovsepyan, 2016-2018).
Project MK-909.2017.5 "Neogene-Quaternary sedimentation on the Ioffe Contourite Drift (Western South Atlanic)"; funded by the Grant of the President of Russian Federation (PI- D. Borisov, 2017-2018).
International project CLIMSEAS (Climate Change in Inland Seas: Phenomena, Feedback and Uncertainties) EU7, coordinators. E. Roget and P. Zavyalov (2011-2014)
Marine scientific cruises 2012-2017
RV Akademik Ioffe, cruises 37 (2012), 43 (2013), 46 (2014), 50 (2015), 52 (2016) and 53 (2017) in the Tropical and SW Atlantic.
Geological works aboard RV Ashamba, NE Black Sea, 2012-2016
The most important research results obtained in 2012-2016
High-resolution paleoceanographic, micropaleontological, sedimentological and paleoenvironmental studies of the Middle-Late Pleistocene to Holocene sediments have been carried out in the tropical Indo-Pacific, Black Sea, Barents and Bering Seas. Our results and correlations of paleoceanographic events in remote regions suggest an important role of the Thermohaline Circulation in global teleconnections on glacial-interglacial and millennial scales.
In the Atlantic, a new line of research is developing since 2009. We carry on reconstructions of erosional-accumulation activity of bottom currents and the resulting contourite sedimentation. Eight Transatlantic expeditions have been organized to collect the sediment cores on the high-resolution seismic profiles. The so-called Ioffe Drift has been discovered. Its formation started in Miocene and several hiatuses are documented in the sediment cores retrieved from this drift. The evidences of contourite occurrence are collected on the Ceara Rise, in the Equatorial Mid-Oceanic Channel, in the valleys of transform faults of the Mid-Atlantic Ridge, in some erosional channels of Argentine Basin, and on the terraces of Patagonian Continental Slope.
In the tropical Pacific, orbitally controlled variations in surface bioproductivity are documented during the Milddle-Late Pleistocene in cooperation with our French partners. Besides, enhanced productivity values in the Eastern Equatorial Pacific are associated with changes in atmospheric circulation and vigor of upwelling at Costa Rica Dome. High productivity values are typical of terminations, i.e. the intervals of rearrangement of the global thermohaline circulation.
The glacial-interglacial and millennial variability in bioproductivity, bottom-water oxygenation and sedimentation are under study in the Bering Sea. The results point to the strong impact of changes in global sea level and teleconnections with the North Atlantic and Asian monsoon on the regional paleoenvironmental conditions.
The high-resolution reconstructions of postglacial changes in facies system and paleoenvironments in the Barents Sea resulted in identification and correlation of millennial climatic events. Paleodata suggest that the Atlantic water flow (as a signature of the Atlantic meridional overturning) is one of the major factors of the Postglacial climatic variability in the Barents Sea on millennial to decadal time scales.
Our study demonstrated that coquina facies characterizes the transition from the postglacial Neoeuxinian Lake to the Black Sea in the early Holocene as a result of the global sea level rise and opening of Bosphorus Strait. The major paleoceanographic events are reconstructed on the NE shelf during the Holocene and unique data collected on the modern ecological preferences of several ostracod species, including the taxa of Caspian origin.