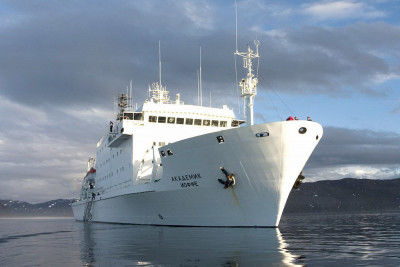 The Russian research vessel Akademik Ioffe, detained in Denmark on November 1, has been released from arrest, has taken off anchor and is heading home. This news late on Tuesday evening, December 7, was confirmed by "RG" at the Institute of Oceanology of RAS with reference to its director Alexey Sokov.
Earlier on Tuesday, a message came from the Russian Embassy in Copenhagen that the Danish Western Court of Appeal considered the petitions filed by the Russian side, presented materials and arguments of experts on international maritime law about the illegality of the arrest imposed on the Russian research vessel. The court heeded these arguments and lifted the arrest, which lasted 36 days.
"During the court session, it was emphasized that the Russian ship is state-owned and was on the way to conduct an oceanographic scientific expedition, which is classified as a non-commercial goal. In this regard, the use of arrest in relation to it is not allowed," the Russian diplomatic mission said in hot pursuit.
Recall that a lawsuit demanding seizure of this Russian vessel was filed by the Canadian company One Ocean Expeditions Ltd. This legal move was made in a desperate attempt to recover damages "in connection with the previous commercial activities of the vessel." His Canadian travel agency rented in 2018-2019 through an intermediary from the Shirshov Institute of Oceanology of the Russian Academy of Sciences.