Laboratory for modeling ocean biogeochemical cycles
Head: Dr. Vladimir Ryabchenko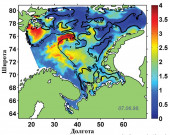 The main areas of research:
Modelling the variability of biogeochemical cycles including the carbon cycle in oceans and seas.
Modelling of distribution of pollutants in water bodies.
Climate change impact on marine ecosystems and the eutrophication of inland seas.
Basics of the operational system for forecasting the weather and the state of water bodies in the Northwestern region of Russia.