CASPIAN BRANCH OF THE IO RAS, ASTRAKHAN
Director of the Caspian Branch of the IO RAS Vladimir Ushivtsev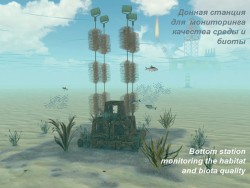 Address:
Savushkina St. 6-27-5, Astrakhan 414056, Russia
Tel.: +7 (8512)-54-45-59

Site of the Caspian Branch of the IO RAS
The main directions of study:
Bottom stations for monitoring the quality of the underwater environment and biota in the Northern Caspian Sea and evaluating impact of the natural and anthropogenic factors on them.
Durable and ecologically capacious models of bottom stations.
Multi-component method to assess the impact of environmental factors on biota.
Acting Director of the Caspian Branch of the IO RAS
PhD (Historical Sciences)