ST. PETERSBURG BRANCH OF THE IO RAS
Director of the St. Petersburg branch of the IO RAS, Honored Scientist of the RF, DSc (Technical Sciences), Prof., Anatoliy Rodionov
Address: 1st Line 30,Vasilievsky Island, St. Petersburg, 199053, Russia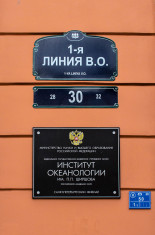 Site of the St. Petersburg Branch of the IO RAS
Recent research achievements
Surface and internal tides in the Arctic Ocean have been modeled. The significance of the contribution of diapicnic mixing induced by internal tidal waves to the formation of the ocean climate has been proved.
It is shown that climate warming will lead to the expansion of anoxic and hypoxic zones. A reduction in nutrient load under the Baltic Sea Action Plan will only partially offset the negative effects of warming.
Alternative approaches to the theory of underwater vision are proposed. Methods for calculating the image contrast, signal-to-noise ratio, and detection and recognition ranges of underwater objects are proposed. The reality of the generation of turbulence in the field of potential waves has been proved: both theoretically and experimentally. The developed mechanism of the transition of wave energy into turbulence energy.
Children categories