OCEAN PHYSICS
Division Head Vyacheslav Kremenetsky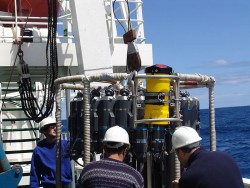 1946 Fundamental role of the spatial non-uniformity of the wind field in the formation of ocean circulation. Theory of the equatorial countercurrent.
1967 Theory of ocean turbulence.
1970 Synoptic eddies. POLYMODE, a large-scale experiment in the Atlantic.
1995-2016 instrumental observations of hydrological features of the North Atlantic along the 60oN.
2002-2016 Regular expeditions to the South Atlantic and performing transoceanic hydrophysical sections.
2015 Deep convection is found in the subpolar Atlantic and record lowering of surface water to depths > 1.5 km.
Children categories