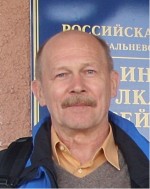 Head of Laboratory
PhD (Geological and Mineralogical Sciences)
Laboratory of Dangerous Geological Processes
Marine Geology

36, Nakhimovskiy prospect, Moscow, 117997, Russia
+7(499)124-79-42, internal phone 0616
Marine geologist, tectonic, candidate of geological-mineralogical Sciences (1983), since 1993 – head of Laboratory of geodynamics and paleoceanology.
He graduated from the Moscow geological prospecting Institute. Since 1969 he worked at the Institute of Oceanology, having passed the way from senior laboratory assistant to head of laboratory.
In 1983 he defended his candidate thesis in Geology and plate tectonics of the Okhotsk sea.
He works in the field of paleogeodynamic, geodynamics and seismicity of island arcs and marginal seas.
Many of his works are devoted to the meso-Cenozoic reconstructions of the Arctic and far Eastern regions.
For several years he was a member of the international Advisory Board at research centre for marine Geology (GEOMAR, Kiel, Germany).
During the work of the Institute participated in 35 marine and land expeditions, including foreign research vessels.
The author of over 100 scientific works, including 3 monographs.
{slider=The most important publications}
Obzhirov A.I., Shakirov R., Minami H., Hachikubo A., Shoji H., Young K.J., Baranov B., Gulkov A.N. GEOLOGICA COMPLEX OF INVESTIGATIONS TO SEARCH METHANE FLUXES AND GAS HYDRATES IN THE OKHOTSK SEA. В сборнике: Современные технологии и развитие политехнического образования. Научное электронное издание. 2016. С. 841-847.
Baranov B.V., Lobkovsky L.I., Dozorova K.A. THE FOREARC EXTENSION IN THE CENTRAL KURIL ISLANDS AND THE TRENCH ROLLBACK Doklady Earth Sciences. 2016. Т. 469. № 1. С. 762-765.
Kulikov E.A., Gusiakov V.K., Ivanova A.A., Baranov B.V. NUMERICAL TSUNAMI MODELING AND THE BOTTOM RELIEF. Вестник Московского университета. Серия 3: Физика. Астрономия. 2016. № 6. С. 3-14.
Baranov B.V., Ivashchenko A.I., Dozorova K.A. THE GREAT 2006 AND 2007 KURIL EARTHQUAKES, FOREARC SEGMENTATION AND SEISMIC ACTIVITY OF THE CENTRAL KURIL ISLANDS REGION. Pure and Applied Geophysics. 2015. Т. 172. № 12. С. 3509-3535.
B. V. Baranov, K. A. Dozorova, and D. D. Rukavishnikova. HAZARDOUS GEOLOGICAL PROCESSES ON THE EASTERN SLOPE OF SAKHALIN. Oceanology. 2015. Vol. 55. No. 6. pp. 906–909.
Derkachev A.N., Nikolaeva N.A., Mozherovskiy A.V., Baranov B.V., Barinov N.N., Minami H., Hachikubo A., Shoji H. MANIFESTATION OF CARBONATE-BARITE MINERALIZATION AROUND METHANE SEEPS IN THE SEA OF OKHOTSK (THE WESTERN SLOPE OF THE KURIL BASIN) Oceanology. 2015. Т. 55. № 3. С. 390-399.
Lobkovsky L.I., Baranov B.V., Dozorova K.A., Mazova R.K., Kiselman B.A., Baranova N.A.THE KOMANDOR SEISMIC GAP: EARTHQUAKE PREDICTION AND TSUNAMI COMPUTATION Oceanology. 2014. Т. 54. № 4. С. 519-531.
Kim Y.-G., Lee S.-M., Jin Y.K., Baranov B., Obzhirov A., Salomatin A., Shoji H. THE STABILITY OF GAS HYDRATE FIELD IN THE NORTHEASTERN CONTINENTAL SLOPE OF SAKHALIN ISLAND, SEA OF OKHOTSK, AS INFERRED FROM ANALYSIS OF HEAT FLOW DATA AND ITS IMPLICATIONS FOR SLOPE FAILURES. Marine and Petroleum Geology. 2013. Т. 45. С. 198-207.
Pflanz D., Gaedicke C., Freitag R., Krbetschek M., Tsukanov N., Baranov B. NEOTECTONICS AND RECENT UPLIFT AT KAMCHATKA AND ALEUTIAN ARC JUNCTION, KAMCHATKA CAPE AREA, NE RUSSIA. International Journal of Earth Sciences. 2013. Т. 102. № 3. С. 903-916.
Baranov B.V., Lobkovskii L.I., Kulikov E.A., Rabinovich A.B., Dozorova K.A., Jin Y.K LANDSLIDES ON THE EASTERN SLOPE OF SAKHALIN ISLAND AS POSSIBLE TSUNAMI SOURCES Doklady Earth Sciences. 2013. Т. 449. № 1. С. 354-357.
Baranov B.V., Lobkovskii L.I., Dozorova K.A. PROBABILITY OF OCCURRENCE OF A VERY STRONG EARTHQUAKE IN THE CENTRAL KURIL REGION Doklady Earth Sciences. 2013. Т. 448. № 2. С. 206-208.
Mazova R.K., Baranova N.A., Baranov B.V., Lobkovsky L.I., Dozorova K.A., Chaykina O.N. NUMERICAL MODEL STUDY OF TSUNAMI GENERATED BY POTENTIAL EARTHQUAKE WITHIN THE KOMANDORSKY SEISMIC GAP IN THE WESTERN ALEUTIAN ISLAND ARC. Science of Tsunami Hazards. 2013. Т. 32. № 3. С. 131-155.
Pflanz D., Gaedicke C., Freitag R., Krbetschek M., Tsukanov N., Baranov B. NEOTECTONICS AND RECENT UPLIFT AT KAMCHATKA AND ALEUTIAN ARC JUNCTION, KAMCHATKA CAPE AREA, NE RUSSIA. International Journal of Earth Sciences. 2012. С. 1.
OPERATION REPORT OF SAKHALIN SLOPE GAS HYDRATE PROJECT 2010 RV Akademik M. A. Lavrentyev / Edited by Y. К. Jin, H. Shoji, A. Obzhirov, B. Baranov. Songdo, 2011. Том Cruise 50
Jin Y.K., Kim Y.G., Baranov B., Shoji H., Obzhirov A. DISTRIBUTION AND EXPRESSION OF GAS SEEPS IN THE GAS HYDRATE PROVINCE OF THE NORTHEASTERN CONTINENTAL SLOPE OF SAKHALIN ISLAND, SEA OF OKHOTSK. В сборнике: Gas Hydrate Studies in Okhotsk Sea and Lake Baikal. Edited by H.Shoji and Y.K.Jin. Kitami, 2011. С. 23-42.
Baranov B., Jin Y.K., Obzhirov A., Prokudin V., Salomatin A., Dozorova K. CHARACTERIZATION OF SEEPAGE ON THE NORTH-EASTERN SAKHALIN SLOPE. В сборнике: Gas Hydrate Studies in Okhotsk Sea and Lake Baikal. Edited by H.Shoji and Y.K.Jin. Kitami, 2011. С. 43-60.
Jin Y.K., Kim Y.-G., Baranov B., Shoji H., Obzhirov A. DISTRIBUTION AND EXPRESSION OF GAS SEEPS IN A GAS HYDRATE PROVINCE OF THE NORTHEASTERN SAKHALIN CONTINENTAL SLOPE, SEA OF OKHOTSK. Marine and Petroleum Geology. 2011. Т. 28. № 10. С. 1844-1855.
Curewitz D., Okino K., Asada M., Tamaki K., Baranov B., Gusev E. STRUCTURAL ANALYSIS OF FAULT POPULATIONS ALONG THE OBLIQUE, ULTRA-SLOW SPREADING KNIPOVICH RIDGE, NORTH ATLANTIC OCEAN, 74°30?N-77°50N. Journal of Structural Geology. 2010. Т. 32. № 6. С. 727-740.
B.Ya., Sukhoveev E.N., Baranov B.V., GrigorEva T.N., PalChik N.A., Moroz T.N HYDROTHERMAL DEPOSITS: EVIDENCE FOR PLIOCENE-QUATERNARY VOLCANISM IN THE CENTRAL PART OF THE SEA OF OKHOTSK. Doklady Earth Sciences. 2009. Т. 427. № 1. С. 728-731. (переводная версия)
Shoji H., Jin Y.K., Obzhirov A.I., Salomatin A.S., Baranov B.V., Gladysch V., Hachikubo A., Minami H., Yamashita S., Takanashi N. METHANE HYDRATES AND PLUMES IN THE SEA OF OKHOTSK. Journal of Geography (Chigaku Zasshi). 2009. Т. 118. № 1. С. 175-193.
Baranov B.V., Jin Y.K., Shoji H., Obzhirov A.I., Dozorova K.A., Salomatin A.S., Gladysh V. GAS HYDRATE SYSTEM OF THE EASTERN SAKHALIN SLOPE: GEOPHYSICAL APPROACH. Editor Young Keun Jin. Incheon (Korea), 2008.
OPERATION REPORT OF SAKHALIN SLOPE GAS HYDRATE PROJECT 2008. RV Akademik M. A. Lavrentyev / Edited by Y. К. Jin, H. Shoji, A. Obzhirov and B. Baranov. Songdo, 2008. Том Cruise 44
Lelikov E.P., Emelyanova T.A., Baranov B.V. MAGMATISM OF THE SUBMARINE VITYAZ RIDGE (PACIFIC SLOPE OF THE KURIL ISLAND ARC). Oceanology. 2008. Т. 48. № 2. С. 239-249.
Kulinich R.G., Karp B.Yu., Lelikov E.P., Karnaukh V.N., Valitov M.G., Nikolaev S.M., Kolpashchnikova T.N., Tsoi I.B., Baranov B.V. STRUCTURAL AND GEOLOGICAL CHARACTERISTICS OF A "SEISMIC GAP" IN THE CENTRAL PART OF THE KURIL ISLAND ARC. Russian Journal of Pacific Geology. 2007. Т. 1. № 1. С. 3-14.
Dullo V.K., Bogaart K., Baranov B.V THE RUSSIAN-GERMAN PROJECT KALMAR: COMPLEX INVESTIGATIONS OF KURIL-KAMCHATKA AND ALEUTIAN SUBDUCTION ZONES. Вестник Камчатской региональной организации Учебно-научный центр. Серия: Науки о Земле. 2007. № 10. С. 165.
Karp B.Ya., Karnaukh V.N., Baranov B.V., Dozorova K.A. SEISMIC STRATIGRAPHY AND SEDIMENTARY PROCESSES ON THE KURILE BASIN NORTHERN SLOPE (OKHOTSK SEA). Marine Geology. 2006. Т. 228. № 1-4. С. 1-14.
Lobkovsky L.I., Baranov B.V., Mazova R.Kh., Kataeva L.Yu. GENERATION AND PROPAGATION OF CATASTROPHIC TSUNAMIS IN THE SEA OF OKHOTSK BASIN: POSSIBLE SCENARIOS. Doklady Earth Sciences. 2006. Т. 410. № 7. С. 1156-1159.
Laverov N.P., Lappo S.S., Lobkovsky L.I., Baranov B.V., Kulinich R.G., Karp B.Ya. THE CENTRAL KURIL "GAP": STRUCTURE AND SEISMIC POTENTIAL. Doklady Earth Sciences. 2006. Т. 409. № 5. С. 787-790.
Lobkovsky L.I., Baranov B.V., Mazova R.K., Kataeva L.Y. IMPLICATIONS OF THE SEISMIC SOURCE DYNAMICS FOR THE CHARACTERISTICS OF A POSSIBLE TSUNAMI IN A MODEL PROBLEM OF THE SEISMIC GAP IN THE CENTRAL KURILE REGION. Russian Journal of Earth Sciences. 2006. Т. 8. С. ES5002.
Sushchevskaya N.M., Tsekhonya T.I., Cherkashov G.A., Baranov B.V., Tomaki K., Sato H., Nguyen H., Belyatsky B.V. THOLEIITIC MAGMATISM OF AN ULTRASLOW SPREADING ENVIRONMENT: AN EXAMPLE FROM THE KNIPOVICH RIDGE, NORTH ATLANTIC. Geochemistry International. 2005. Т. 43. № 3. С. 222-241.
Shoji H., Minami H., Hachikubo A., Sakagami H., Hyakutake K., Soloviev V., Matveeva T., Mazurenko L., Kaulio V., Gladysch V., Logvina E., Obzhirov A., Baranov B., Khlystov O., Biebow N., Poort J., Jin Y.K., Kim Y. HYDRATE-BEARING STRUCTURES IN THE SEA OF OKHOTSK. EOS: transactions, American Geophysical Union. 2005. Т. 86. № 2.
Wong H.K., L?dmann T., Konerding P., Baranov B.V., Karp B.Ya., Ion G. BOTTOM CURRENT-CONTROLLED SEDIMENTATION AND MASS WASTING IN THE NORTHWESTERN SEA OF OKHOTSK. Marine Geology. 2003. Т. 201. № 4. С. 287-305.
Baranov B.V., Werner R., Hoernle K.A., Tsoy I.B., van den Bogaard P., Tararin I.A. EVIDENCE FOR COMPRESSIONALLY INDUCED HIGH SUBSIDENCE RATES IN THE KURILE BASIN (OKHOTSK SEA). Tectonophysics. 2002. Т. 350. № 1. С. 63-97.
Baranov B., Dozorova K., Wong H.K., L?dmann T., Karp B., Karnaukh V OPENING GEOMETRY OF THE KURILE BASIN (OKHOTSK SEA) AS INFERRED FROM STRUCTURAL DATA. The Island Arc. 2002. Т. 11. № 3. С. 206-219.
Bohrmann G., Heeschen K., Jung C., Weinrebe W., Cailleau B., Heath R., Hort M., Trummer I., Baranov B., H?hnerbach V., Masson D. WIDESPREAD FLUID EXPULSION ALONG THE SEAFLOOR OF THE COSTA RICA CONVERGENT MARGIN. Terra Nova. 2002. Т. 14. № 2. С. 69-79.
Baranov B.V., Dozorova K.A., Karp B.Ya., Karnaukh V.N., Wong H.K., L?dmann . NATURE OF THE BASEMENT UPLIFT IN THE KURIL BASIN: STRIKE-SLIP ZONE OR A SPREADING RIDGE? Doklady Earth Sciences. 2002. Т. 382. № 1. С. 15-18. (переводная версия)
Freitag R., Gaedicke C., Baranov B., Tsukanov N. COLLISIONAL PROCESSES AT THE JUNCTION OF THE ALEUTIAN-KAMCHATKA ARCS: NEW EVIDENCE FROM FISSION TRACK ANALYSIS AND FIELD OBSERVATIONS. Terra Nova. 2001. Т. 13. № 6. С. 433-442.
Cherkashev G.A., Gusev E.A., Zhirnov E.A., Tamaki K., Kurevits D., Okino K., Sato H., Baranov B.V., Egorov A.V., German K., Crane K., Sushchevskaya N.M. THE KNIPOVICH RIDGE RIFT ZONE: EVIDENCE FROM THE KNIPOVICH-2000 EXPEDITION. Doklady Earth Sciences. 2001. Т. 378. С. 420-423.
Skolotnev S.G., Kramer W., Seifert W., Zimmer M., Gedike K., Freitag R., Tsukanov N.V., Baranov B.V., Alekseev D.I. NEW DATA ON THE ORIGIN OF OPHIOLITES IN THE KAMCHATSKII MYS PENINSULA (EASTERN KAMCHATKA). Doklady Earth Sciences. 2001. Т. 381. С. 881-883.
Gaedicke C., Freitag R., Baranov B., Alexeiev D., Tsukanov N., Seliverstov N. STRUCTURE OF AN ACTIVE ARC-CONTINENT COLLISION AREA: THE ALEUTIAN-KAMCHATKA JUNCTION. Tectonophysics. 2000. Т. 325. № 1-2. С. 63-85.
Baranov B.V., Dozorova K.A., Karp B.Ya., Karnaukh V.N. GEOMETRY OF THE KURILE BASIN OPENING. Doklady Earth Sciences. 1999. Т. 367 A. С. 751-753.
Greinert J., Suess E., Derkachev A.N., Obzhirov A.I., Baranov B.V., Winckler G. GAS VENTING, BIOTA AND CARBONATE MINERALIZATION ALONG THE SAKHALIN SHEAR ZONE, SEA OF OKHOTSK. AAPG Bulletin (American Association of Petroleum Geologists). 1999. Т. 83. № 4. С. 689-690.
Gaedicke C., Baranov B.V., Obzhirov A.I., Lelikov E.P., Belykh I.N., Basov E.I. SEISMIC STRATIGRAPHY, BSR DISTRIBUTION, AND VENTING OF METHANE-RICH FLUIDS WEST OF PARAMUSHIR AND ONEKOTAN ISLANDS, NORTHERN KURILS. Marine Geology. 1997. Т. 136. С. 259.
Basov E.I., Van Weering T.C.E., Gaedike C., Baranov B.V., Lelikov E.P., Obzhirov A.I., Belykh I.N. SEISMIC FACIES AND SPECIFIC CHARACTER OF THE BOTTOM SIMULATING REFLECTOR ON THE WESTERN MARGIN OF PARAMUSHIR ISLAND, SEA OF OKHOTSK. Geo-Marine Letters. 1996. Т. 16. № 4. С. 297-304.
Zonenshain L.P., Kazmin V.G., Kuzmin M.I., Dobretsov N.L., Baranov B.V., Kononov M.V., Mats V.D., Balla Z., Fialkov V.A., Khartchenko V.V. GEOLOGY OF LAKE BAIKAL FLOOR STUDIED WITH USAGE OF 'PISCES' SUBMERSIBLES. Доклады Академии наук. 1993. Т. 330. С. 84.
Baranov B.V., Seliverstov N.I., Muravev A.V., Muzurov E.L. THE KOMANDORSKY BASIN AS A PRODUCT OF SPREADING BEHIND A TRANSFORM PLATE BOUNDARY. Tectonophysics. 1991. Т. 199. № 2-4.
Lobkovsky L.I., Kerchman V.I., Baranov B.V., Pristavakina E.I. ANALYSIS OF SEISMOTECTONIC PROCESSES IN SUBDUCTION ZONES FROM THE STANDPOINT OF A KEYBOARD MODEL OF GREAT EARTHQUAKES. Tectonophysics. 1991. Т. 199. № 2-4. С. 211-236
Bogdanova O.Yu., Gorshkov A.I., Baranov B.V., Seliverstov N.I., Sivstov A.V HYDROTHERMAL DEPOSITS FROM PIIP SUBMARINE VOLCANO, KOMANDORSKII BASIN. Volcanology & Seismology. 1990. Т. 11. С. 354.
Seliverstov N.I., Baranov B.V., Egorov Y.O., Shkira V.A. NEW DATA ON THE STRUCTURE OF THE SOUTHERN KOMANDORSKY BASIN PROVIDED BY CRUISE 26 OF R/V VULKANOLOG. Volcanology & Seismology. 1990. Т. 10. С. 499.
Zonenshain L.P., Kuzmin M.I., Lisitsin A.P., Bogdanov Yu.A., Baranov B.V. TECTONICS OF THE MID-ATLANTIC RIFT VALLEY BETWEEN THE TAG AND MARK AREAS (26-24°N): EVIDENCE FOR VERTICAL TECTONISM. Tectonophysics. 1989. Т. 159. № 1-2. С. 1-23.
Muzurov Ye.L., Baranov B.V., Borisenko Yu.V., Brudastov P.L., Litvinova L.A. SEA-FLOOR SPREADING IN THE KOMANDORSKIY BASIN AND STRUCTURE OF THE SHIRSHOV RIDGE. Doklady Earth Sciences. 1989. Т. 305. № 2. С. 89-92.
Zonenshayn L.P., Murdmaa I.O., Baranov B.V., Kuznetsov A.P., Kuzin V.S., Kuzmin M.I., Avdeiko G.P., Stunzhas P.A., Lukashin V.N., Barash M.S., Valyashko G.M., Dyomina L.L. AN UNDERWATER GAS SOURCE IN THE SEA OF OKHOTSK WEST OF PARAMUSHIR ISLAND. Oceanology. 1987. Т. 27. № 5. С. 598.
Silantyev S.A., Baranov B.V., Kolesov G.M. GEOCHEMISTRY AND PETROLOGY OF AMPHIBOLITES FROM THE SHIRSHOV RANGE, BERING SEA. Геохимия. 1986. № 12. С. 1694.
Zonenshain L.P., Savostin L.A., Baranov B.V. PLATE BOUNDARIES OF THE USSR. Episodes. 1984. Т. 7. С. 43.
Demaster D.J., Dullo W.-C., Baranov B., Van Den Bogaard C. THE SUPPLY AND ACCUMULATION OF SILICA IN THE MARINE ENVIRONMENT. Geochimica et Cosmochimica Acta. 1981. Т. 4510. С. 1715.
Matveyenkov V.V., Baranov B.V. MAGMATIC ROCKS OF THE MACQUARIE RIDGE (SOUTHWEST PART OF THE PACIFIC OCEAN). International Geology Review. 1981. Т. 23. С. 417.
Baranov B.V., Lobkovsky L.I. SHALLOW SEISMICITY BEHIND THE KURILE ARC AND ITS RELATION TO THE BENIOFF ZONE. Доклады Академии наук. 1980. Т. 255. С. 67.
Zonenshain L.P., Baranov B.V., Legler V.A. DEEP-SEA TRENCHES AS COMPRESSIONAL STRUCTURES. Известия Российской академии наук. Серия геологическая. 1980. № 6. С. 96.
lider}