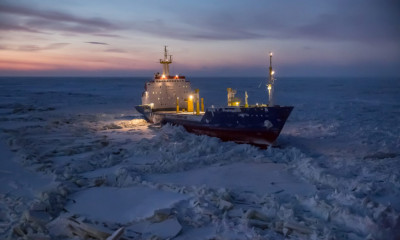 Young scientists and students will take part in the fourth season of the floating university IO RAS, which will be held in the Arctic from August 6 to September 5, 2021.
In the Year of Science and Technology, more than 50 students and young scientists will go on an expedition across the Kara Sea. The voyage on board a research vessel RV Akademik Ioffe will be jointly conducted by the Shirshov Institute of Oceanology of RAS and Moscow Institute of Physics and Technology.
34 students from eight Russian universities will go on the expedition. They will study the physical, biological and geochemical processes taking place in the Russian Arctic. In particular, they will study plastic pollution, the transformation of the Ob and Yenisei runoff, as well as the influx of warm Atlantic waters into the northern part of the Kara Sea, presumably affecting climate warming in the Arctic.
The research will be led by 23 young scientists from seven scientific organizations in Russia.
At the end of the voyage, students and graduate students will defend scientific projects at the Museum of the World Ocean in Kaliningrad and prepare scientific publications based on the collected material.