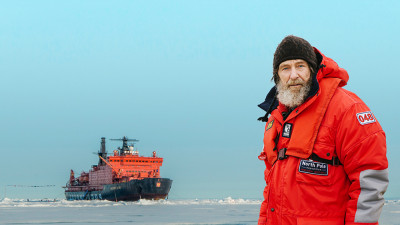 Fedor Konyukhov will spend two weeks alone on a drifting polar station in the Arctic Ocean. The main goal of his mission will be to study the intensity of polar ice melting and its drift routes. Konyukhov will dedicate his free time to creating a series of paintings featuring the beauty of the arctic landscapes.
On July 11th of this year, Fedor Konyukhov will depart Murmansk together with 124 other passengers aboard the «50 Years of Victory» icebreaker as part of this season's first trip of the Poseidon Expeditions Polar Travel Club. Once they reach the North Pole, the captain and Poseidon Expeditions team will locate a sturdy (at least 3m thick) ice floe on which to set up Konyukhov's mini-polar station. "50 Years of Victory" is the first Arktika-class icebreaker to have a spoon-shaped bow, capable of breaking through ice up to 2.5 meters (9.2 feet) thick. This is one of the world's largest, most-powerful nuclear icebreaker. 75,000 horsepower generated by nuclear reactors makes 50 Years of Victory the one of the world's most powerful icebreakers.
"The station is already in the process of being constructed here in Moscow; at the North Pole we'll only have to assemble it. Konyukhov's team, the captain of the icebreaker and our own team are involved in the preparations. We are also involving several specialized organizations that will insure the trip's safety. With careful preparation for this adventure, we will leave Fedor alone on the ice and return to Murmansk. Two weeks later we will return with our second expedition this season. Thanks to special satellite equipment, we will then locate and collect him. According to our current calculations, he will drift around 100-120km toward Greenland on his floe," says Nikolay Saveliev, founder of the Poseidon Expeditions Polar Travel Club.
The scientific agenda of this expedition was prepared in cooperation with the Shirshov Institute of Oceanology in Moscow, which has also provided the necessary research equipment.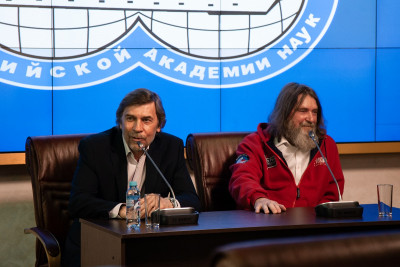 "We are interested in the detailed structure of the world's ocean floor, especially in the Arctic. The problem is that it's constantly covered by sea ice. We are interested in the details and localization of microseismic activities, i.e. micro earthquakes that occur. We've developed a special device to record them. It will be placed on the ice and record local micro earthquakes. With the recorded data, we can then derive information about the ocean floor. The device is called an autonomous ice seismograph. It operates online and records microseisms while drifting on the ice floe. It also records noise, which will be relevant for future recordings," explains Alexey Sokov, Director of the Shirshov Institute of Oceanology in Moscow.
Iridium Satellite Communications will supply the satellite sensors for the expedition to track the drift of Konyukhov's polar station. "Millions of people will follow Konyukhov's expedition and with the satellite tracking system they will be able to track him at any moment and see his location on a map on the internet. You can even send him a message! The device has a 100% accuracy and uses GPS for location tracking," says Vladislav Shpilevoy, a representative of Iridium in Russia.
Meanwhile, Konyukhov misses the North Pole very much and can't wait to return to the polar world. "I don't go on my expeditions just for the sake of an adventure. This is my life. There is always the fear of the elements, which is normal, but my curiosity beats the fear. The polar station will not only allow me to do scientific research, but also to paint pictures and keep a diary. I love our planet and no matter how much I travel, it always seems I have seen only a small part of it," says Konyukhov.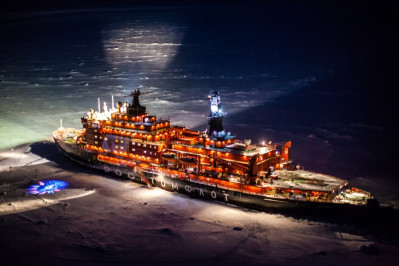 For more than 20 years, the Poseidon Expeditions Polar Travel Club has been sharing the uniqueness of hard-to-reach polar regions such as the Arctic, Antarctic and North Pole with an international community. Expedition cruises allow for exploration travel with a team of true professionals. The club raises awareness of topics like global warming and its anthropogenic factors, sustainable travel, environmental protection why the planet's polar regions should be preserved.
Fedor Konyukhov has reached the geographic North Pole five times:
1988 – He journeyed as a member of the "Polar Bridge" transarctic ski expedition (USSR – North Pole – Canada) and was supported by the newspaper Komsomolskaya Pravda. Start: March 3, 1988, Severnaya Zemlya archipelago, Sredniy Island, Cape Arctic. The group reached the North Pole on April 24 and finished in Canada at Ward Hunt Island on June 1, 1988. Travel time: 91 days. Expedition leader: Dmitry Shparo.
1989 – He went as a member of the first Russian autonomous expedition "Arctic", led by Vladimir Chukov, to the North Pole. Start: March 4, 1989, Severnaya Zemlya archipelago, Schmidt Island. The expedition reached the North Pole on May 6, 1989.
1990 – He completed the first solo ski trip to the North Pole in Russia's history. Start: March 3, 1990, Severnaya Zemlya archipelago, Sredniy Island, Cape Lokot. He reached the North Pole on May 8, 1990. Travel time: 72 days.
2013 – He participated in a joint expedition on skis and dog sled with Viktor Simonov. Route: North Pole – Canada (Ward Hunt Island). Start: April 6, 2013. Reached the North Pole on May 20, 2013. Travel time: 46 days.
2018 – He reached the North Pole as Poseidon Expeditions' guest of honor aboard the «50 Years of Victory» nuclear icebreaker.
You can find Fedor Konyukhov's full biography here.