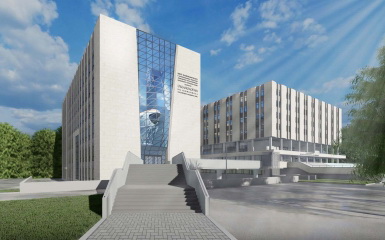 Moscow City Architecture Committee has approved the project of the Center for Biogeochemical and Information Technologies at the Shirshov Institute of Oceanology of RAS, said the chief architect of the capital Sergey Kuznetsov.
The total area of the complex will be 12 thousand square meters. The construction site is located at 36 Nakhimovsky Prospect, next to the main building of the Institute, erected in 1977 in the spirit of Soviet modernism.
"The new building will have seven above-ground and three underground floors. The architectural appearance corresponds to the style of the existing building of the Institute, designed by Belopolsky. A special pride of the Center will be an exhibition pavilion for submersibles, including the famous MIR-2, thanks to which hundreds of scientific missions at depth took place, films were shot and rescue operations were carried out," - said Sergei Kuznetsov.
The main facade will be made in the form of a volumetric stained-glass window, behind which the exhibition will be located. From the side it will seem that water has gushed out of the building.
The vertical rhythm of the pylons of the side facades is an echo of the overall architecture of the complex. The decoration will also be carried out in the same color scheme as the existing building of the Institute of Oceanology. To do this, use a natural stone of light gray color, in some places a dark gray shade, plaster. The designer is Giprokon-proektirovanie LLC.
"The main building area will be occupied by scientific premises: a hall with a 3x3x3 meter test pool for calibrating hydroacoustic transducers and testing equipment, storage of biomaterials and collections, an experimental thermostat room, molecular genetic and geochemical laboratories, areas for 3D modeling, and so on," - Kuznetsov added.
In addition, the Center includes a scientific and educational block, which includes an exhibition pavilion for submersiles, training rooms for seminars for young scientists, and a museum of the history of RAS.
It was decided to use a unique spherical projection as one of the exhibits. This system is a globe on which high definition video is broadcast. Visitors will be shown atmospheric storms, climate changes and ocean temperatures.
The main entrance will be made from the side of Nakhimovsky prospect. The new building will be connected on the ground floor level with the main building of the Institute.
Recall that the Shirshov Institute of Oceanology is the leading scientific center of Russia in the field of ocean studies, which has more than 70 years of research experience, conducts laboratory experiments and practical expeditions.
As part of the implementation of the national project "Science", the development of its infrastructure and material and technical base is envisaged. The construction of the Center for Biogeochemical and Information Technologies will make it possible to implement these tasks, in particular, to locate and effectively use expensive scientific equipment.
In addition, new laboratories will allow the Institute to enter the world level in the study of climate change, genetic research of marine fauna, etc.