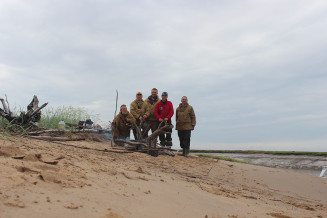 The North-Western Branch of the IO RAS received a grant from the Project Office for the Development of the Arctic "PORA" for the project "Peculiarities of the mesotidal mouths of the Russian Arctic rivers in the conditions of summer low water (on the example of the Indiga River in the Nenets Autonomous Okrug)".
The purpose of the project is to identify the features of hydrological, hydrochemical and hydrobiological characteristics in the mesotidal estuary during the summer low water period (during the period of the greatest vulnerability of water and biological resources to anthropogenic impact). In the area of the Indiga Bay, where the Indiga River flows, over the next few years, it is planned to build a deep sea port, which will be included in the network of strongholds of the Northern Sea Route in the Arctic zone of the Russian Federation. The information obtained during the implementation of the proposed project will make it possible to solve a wide range of applied problems related to the environmental safety of the construction and operation of the specified seaport.
In the summer low water season of 2022, employees of the North-West Branch will conduct hydrological, hydrochemical and hydrobiological observations in the estuary of the Indiga River in various phases of the tidal cycle.