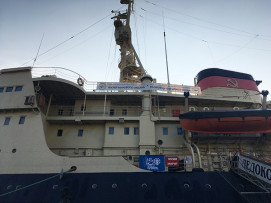 In St. Petersburg, the All-Russian scientific and practical conference dedicated to the problems of development and integration of Crimean science, culture, education in the international intellectual space has ended. The event took place in two stages, the first of which was held May 23-24 in Feodosia.
During the conference, participants noted a number of trends in the development of modern society in the field of humanities and natural sciences, which have a significant impact on the study of historical heritage, the solution of environmental and defense problems in the Azov-Black Sea region, as well as the study of the nature of Crimea and the Black Sea region.
"The Crimean peninsula is not only a resort and recreational facility with the appropriate infrastructure, but also a region with rich production potential," said the director of the St. Petersburg branch of Shirshov Institute of Oceanology of RAS Anatoly Rodionov.
The conference is organized by the St. Petersburg branch of Shirshov Institute of Oceanology of RAS with the support of the Committee of the State Council of the Republic of Crimea on Education, Science, Youth Policy and Sports, the Presidium of the RAS, St. Petersburg State University of Architecture and Civil Engineering, etc. The event was attended by more than 150 representatives of federal and regional authorities, the Russian Academy of Sciences, research institutes and cultural and art institutions. VI Theodosian scientific readings will be held in 2021.