LABORATORY OF ECOLOGY
Head: Dr. Vladimir Silkin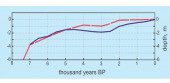 The main directions of study:
Mathematical modeling of the water flow through the Bosporus and Dardanelles.
Glacio-eustatic level changes of the Black Sea and the World ocean.
Dynamics of the Black Sea pollution by oil products, heavy metals and radionuclids.
Plankton communities in the Black Sea littoral zone.
Invasions and their influence on the Black Sea ecosystem.