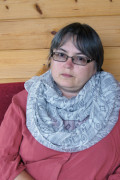 Chief Specialist
IO RAS Publishing House
IT Center
Scientific and auxiliary units of the Institute

36, Nakhimovskiy prospect, Moscow, 117997, Russia
+7(495)719-00-35, internal phone 0374
Chief specialist of the Information Technology Department, WEB-designer, site administrator OCEAN.RU
In 1983 she graduated from the Moscow Power Engineering Institute with a degree in automatic systems for scientific research (Faculty of Automation and Remote Control). From 1983 to 1985 she worked as an engineer at the Research Institute of Precision Instrumentation in Moscow, from 1985 to 1994 as an engineer at the Research and Design Institute of Installation Technology in Moscow, from 1994 to 2002 as Chief Specialist of the Information Technology Department of TD Apiko LLC, Moscow.
Since 2002 he has been working at Shirshov Institute of Oceanology as a chief specialist of the IT Department, she is a web designer, and responsible for the decoration of scientific and technical information, for the support and design of graphic information on the IO RAS portal www.ocean.ru
She is a Microsoft certified specialist in the specialty WEB-design: design, animation, photography, realistic lighting and visualization in the 3D Max environment; specialist in artistic skills in Corel Draw and Photoshop, design and animation in Macromedia Flash.
Since 2008 he has been teaching in the specialties "WEB-design" and "Computer graphics".