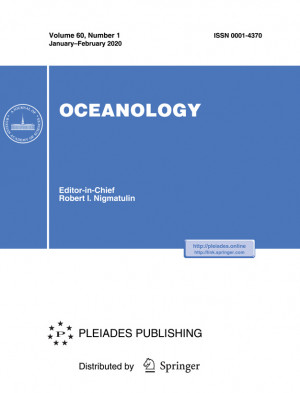 The journal Oceanology was founded in 1961 as a multidisciplinary journal in the field of marine science. It is the leading journal in a wide range of theoretical and experimental directions in the sciences of the Ocean.
The journal Oceanology publishes original research results on physical oceanology, marine hydrochemistry, bio-oceanology and marine ecology, marine geology and geophysics, the role of the Ocean in shaping the Earth's climate, information on new methods and technical means of ocean research, and information on scientific expeditions. The publication is peer-reviewed and is included in the VAK List for the publication of works of applicants for academic degrees. The journale is presented in many databases, including the Web of Science, Scopus and RINC.
JCR Impact factor 0.838 (2019), Impact factor RINC: 1,706 (2018)
The journale is published 6 times a year in Russian (ISSN: 0030-1574) and English (ISSN: 0001-4370) languages.
Full text from publisher.
The journal Oceanology is published under the guidance of the Department of Earth Sciences of the RAS
Chief editor: academician of RAS Nigmatulin Robert Iskanderovich
Deputy editors-in-chief:
Vladimir Shevchenko, PhD (Geological and Mineralogical Sciences), Moscow State University, Moscow, Russia;
Andrey Zatsepin, DSc (Physical and Mathematical Sciences), Shirshov Institute of Oceanology, Russian Academy of Sciences, Moscow, Russia
Members of the editorial board:
Gleb Baturin, DSc (Geological and Mineralogical Sciences), Shirshov Institute of Oceanology, Russian Academy of Sciences, Moscow, Russia;
Georgy Cherkashov, DSc (Geological and Mineralogical Sciences), VNIIOkeangeologia, Saint Petersburg, Russia;
Alexander Dubinin, DSc (Chemical Sciences), Shirshov Institute of Oceanology, Russian Academy of Sciences, Moscow, Russia;
Evgeniy Dubinin, DSc (Geological and Mineralogical Sciences), Moscow State University, Moscow, Russia;
Sergey Galkin, DSc (Biological Sciences), Shirshov Institute of Oceanology, Russian Academy of Sciences, Moscow, Russia;
Sergey Gulev, DSc (Physical and Mathematical Sciences), Shirshov Institute of Oceanology, Russian Academy of Sciences, Moscow, Russia;
Mikhail Koshlyakov, DSc (Physical and Mathematical Sciences), Shirshov Institute of Oceanology, Russian Academy of Sciences, Moscow, Russia;
Marina Kravchishina, PhD (Geological and Mineralogical Sciences), Shirshov Institute of Oceanology, Russian Academy of Sciences, Moscow, Russia;
Leopold Lobkovskiy, DSc (Geological and Mineralogical Sciences), Shirshov Institute of Oceanology, Russian Academy of Sciences, Moscow, Russia;
Viktor Mikheev, DSc (Biological Sciences), Severtsov Institute of Ecology and Evolution, Moscow, Russia;
Grigoriy Reznik, DSc (Physical and Mathematical Sciences), Shirshov Institute of Oceanology, Russian Academy of Sciences, Moscow, Russia;
Nikolay Rimskiy-Korsakov, DSc (Technical Sciences), Shirshov Institute of Oceanology, Russian Academy of Sciences, Moscow, Russia;
Viktor Sapozhnikov, DSc (Chemical Sciences), Russian Federal Research Institute of Fisheries and Oceanography, Moscow, Russia;
Vladimir Zalesniy, DSc (Physical and Mathematical Sciences), Marchuk Institute of Numerical Mathematics, Moscow, Russia;
Peter Zavialov, DSc (Physical and Mathematical Sciences), Shirshov Institute of Oceanology, Russian Academy of Sciences, Moscow, Russia
Advisory Board:
V.A. Akulichev, V.G. Bondur, S.A. Dobrolyubov, E.M. Galimov, V.G. Neiman, J.C.J. Nihoul, D.S. Pavlov, G.V. Smirnov, J. Thiede, T. E. Whitledge, and V.E. Zakharov
Managing Editor Vera Arkhipkina

Address:
36, Nakhimovskiy prospect, Moscow, 117997, Russia, Shirshov Institute of Oceanology RAS.
Tel.: (499) 124-63-81
E-mail: This email address is being protected from spambots. You need JavaScript enabled to view it.