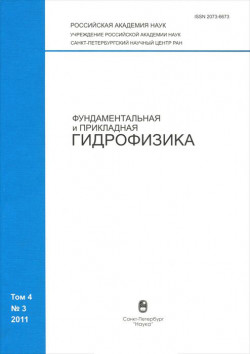 The St. Petersburg branch of the Institute of Oceanology carries out information support for the publication of the journal Fundamental and Applied Hydrophysics (Fundamentalnaya i Prikladnaya Gidrofizika), indexed at RINC and Scopus.
The journal publishes the results of scientific research in the following areas:
fundamental principles of hydrophysics;
dynamics and hydrodynamics of marine objects;
physical fields of marine objects, the ocean, the atmosphere and their interaction;
methods and means of recording the hydrophysical fields of the ocean and marine objects;
information technologies in the tasks of hydrophysics, design and operation of offshore facilities ;
ecology of the hydrosphere;
hydrobionics.
The editor-in-chief is the director of the St. Petersburg branch of the IO RAS, the Honored Scientist of the Russian Federation, Doctor of Technical Sciences Anatoly Rodionov.
Responsible Secretary - Senior Researcher of the Laboratory of Numerical Experiments on the Ocean Dynamics of the SPbB of the IO RAS, Candidate of Physical and Mathematical Sciences Sofina Ekaterina Vladimirovna.
ISSN 2073-6673
Impact factor RINC 2018 ? 0.497
CiteScore 2019 ? 0.5