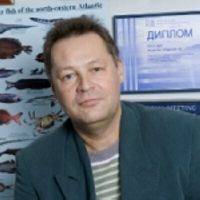 Head of Laboratory
DSc (Biological Sciences)
Laboratory of Ocean Ichthyofauna
Marine Ecology
36, Nakhimovskiy prospect, Moscow, 117997, Russia
Orlov Alexey Markovich in January 2021 moved from VNIRO to the Institute of Oceanology of RAS to the position of the head of the Laboratory of Ocean Ichthyofauna. He worked at VNIRO for about 35 years, having worked his way up from an engineer to the head of a laboratory and a chief researcher.
ORCID: 0000-0002-0877-2553
ResercherID: E-2036-2012
ScopusID: 7202403756
RSCI AuthorID: 85290
In 1982 he graduated from the Fisheries Faculty of the Astrakhan Technical Institute of the Fishing Industry and Economy (now the Astrakhan State Technical University), specializing in Ichthyology and Fish Farming.
He is an expert in benthic fishes of temperate and polar regions of the Northern Hemisphere, as well as in deep-sea ichthyofauna (fishes of the continental slope, meso- and bathypelagic and seamounts). He is the Doctor of Biological Sciences since 2004. Author of over 200 publications in peer-reviewed journals (137 in Scopus and 91 in WoS).
With his participation, several international scientific symposia and three All-Russian Schools for young scientists and specialists have been organized. Member of the Scientific Committee on Biological Oceanography and the Working Group on the Ecology of Seamounts PICES (Organization for Marine Sciences in the North Pacific), Shark Specialists Group of the International Union for Conservation of Nature (IUCN), as well as several professional societies (Hydrobiological Society, MOIP, RGO, American Fisheries Society, Asian Fisheries Society, Fisheries Society of British Isles, European Society of Ichthyologists, Japanese Ichthyological Society, Deep-Sea Biology Society).
Deputy Editor-in-Chief of the RAS Journal "Issues of Ichthyology", Executive Editor of "Proceedings of VNIRO", Associate Editor of "Acta Ichthyologica et Piscatoria" (Web of Science), member of the editorial boards of the journals "Fish Industry", "Izvestia TINRO", "Vestnik AGTU. Series: Fisheries", "Bulletin of DGU. Series 1: Natural Sciences".
In 1999 he was awarded the R.E. Forster as co-author of the outstanding scientific publication of the year "The ecology distribution and abundance of midwater fishes of the Subarctic gyres". The American Association for Scientific Progress in 2003 awarded him a one-year membership. The prestigious American encyclopedia "Who's Who in Science and Technology", the British encyclopedia "Cambridge Blue Book" and the Russian "Who is who in Russia" published his brief biographical information. He has a jubilee medal "300 years of the Russian fleet" (1996). Awarded with diplomas of the State Committee of the Russian Federation for Fisheries (2003), the International Biographical Center (Cambridge, Great Britain) as the world's leading scientist in the field of ichthyological and fisheries research in 2012.
Member of numerous sea expeditions, the total duration of his stay at sea is about 6 years.