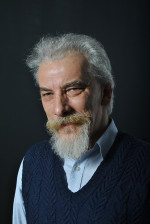 Head of Laboratory
Main Researcher
DSc (Biological Sciences)
Laboratory of Ecology of Coastal Bottom Communities
Marine Ecology

36, Nakhimovskii prospect, Moscow, 117997
+7(499)124-79-96
Marine zoologist, graduate of the Department of Invertebrate Zoology of the Biological Faculty of Moscow State University (1985). He graduated from IO RAS postgraduate studies, in 1992 he defended his Ph.D., in 2012 - a doctoral dissertation in the specialty "Hydrobiology". In 1988, after graduating from graduate school, he was enrolled in the staff of the Laboratory of Biological Basis of Mariculture.
Research interests: ecology of marine meiobenthos, ecology and taxonomy of nematodes, tardigrades; structure and dynamics of communities.
Member of many marine and coastal expeditions to the White, Barents, Kara, Greenland, Caspian, Aral, South China, East China, Japan, Okhotsk and Black Seas.
Permanent member of the Bureau (in 2016-2019 - President) of the International Association of Meiobenthologists; member of the Marine Ecosystems Coordinating Committee of the Commission for the Protection of Arctic Flora and Fauna; member of the MOIP Council; taxonomic editor of the International Register of Marine Species.
Author of a number of training courses: "Russian Seas - Regional Bio-Oceanology", "Tropical Ecology" (Biology Department of Moscow State University), "Marine Biocenology" (Kant BFU), etc., visiting professor of the universities of Anamalai (India), Ghent (Belgium) ), Alfred Wegener Institute (Germany), Minin University (N. Novgorod, Russia), Far Eastern Federal University (Russia).
Publications:
V. O. MOKIEVSKY | Ph.D. D. Sci. | P.P. Shirshov Institute of Oceanology, Moscow (researchgate.net)