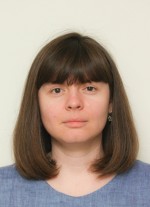 Senior Researcher
PhD (Geological and Mineralogical Sciences)
Lisitsyn Laboratory of Physico-Geological Studies
Marine Geology
Moscow

In 2004 she graduated from the Department of Geomorphology and Paleogeography of Lomonosov Moscow State University. In 2004, she entered the postgraduate course at Shirshov Institute of Oceanology of RAS.
In 2008 she defended her PhD thesis "Postglacial history of the development of the White Sea based on the study of aquatic and terrestrial palynomorphs".
From 2005 to the present, she has been working at Shirshov Institute of Oceanology of RAS as a senior researcher at the Laboratory of Physical and Geological Studies.
She is a laureate of competitions of scientific works of young scientists in 2013 and 2014.
Winner of the 2013 and 2015 competitions for the right to receive grants from the President of the Russian Federation for state support of young scientists - candidates of science.
She has published 54 articles, including 16 in peer-reviewed publications.
Scientific interests
Micropaleontology (aquatic and terrestrial palynomorphs)
Postglacial history of the development of the shelf of the Arctic seas
Methods of paleogeographic reconstructions in the Arctic and North Atlantic
{/slider}