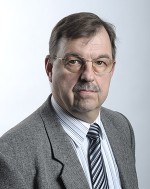 Deputy Director for Scientific Work of Marine Engineering
Head of Laboratory
DSc (Technical Sciences)
Sonar Ocean Bottom Surveying Laboratory
Marine Engineering
Directorate of the IO RAS

36, Nakhimovskii prospect, Moscow, 117997,
+7 (499)124-79-87
Rimskiy-Korsakov Nikolay Andreevich - Deputy Director for Scientific Work at the Shirshov Institute of Oceanology, Russian Academy of Sciences;
Head of the Department of hydro-acoustics and instrumental observations; Head of the Laboratory of bottom sonar;
Professor, Department of Underwater Vehicles and Robots, Faculty of Special Engineering, Bauman Moscow State Technical University;
Doctor of Technical Sciences.
Date of birth - 23-08-1953.
1976 - graduated from the Moscow Mining Institute (mining engineer – physicist, specializing in acoustics and ultrasound equipment).
1984 - defended his thesis (Ph.D.) in the Council of N.N. Andreev Acoustics Institute.
2011 - defended his doctoral dissertation at the Council of the Shirshov Institute of Oceanology, Russian Academy of Sciences.
From 1976 to the present - engineer, researcher, head of the laboratory, deputy director for scientific work at the Institute of Oceanology of the Russian Academy of Sciences.
N.A. Rimskiy-Korsakov is a specialist in the technology of deep-sea marine studies of the bottom relief morphology and underwater objects of natural and technogenic origin using underwater uninhabited vehicles.
N.A. Rimskiy-Korsakov began his professional career as a student-intern in the Department of Underwater Research Technique, IO RAS.
N.A. Rimskiy-Korsakov entered and graduated from graduate school at N.N. Andreev Acoustics Institute with a degree in "Acoustics and Sound Engineering". In 1984, he defended his thesis "Development and researching the method and equipment for acoustic profiling of sediments from aboard deep-sea towed vehicles."
After defending his dissertation, N.A. Rimskiy-Korsakov leads the work of the sonar group of the Deep-Water Research Techniques Department, in 1988 he becomes the head of the newly formed Laboratory of Bottom Hydro-location, and since 2002 he has been the head of the Marine Engineering Direction, being the deputy director for scientific work.
In 2011, N. A. Rimskiy-Korsakov defended his doctoral dissertation "Technology of studying water area bottom and underwater objects using sonar methods."
N.A. Rimskiy-Korsakov is directly involved and leads the sea and ocean expeditions of the IO RAS, and also organizes the development of modern technologies for instrumental research of the bottom and underwater objects, including projects of the RFBR and the Ministry of Education and Science, contracts with the EMERCOM of Russia, the Ministry of Defense, RAO UES, Gazprom, etc.
To date, N.A. Rimskiy-Korsakov has published 235 scientific articles and abstracts. With his participation, 7 monographs have been written and 3 geomorphological Atlases have been published. N.A. Rimskiy-Korsakov repeatedly participated in the work and made presentations at domestic and foreign (Bulgaria, Norway, USA, Canada, Austria, Germany) conferences.
N.A. Rimskiy-Korsakov was awarded the medals "300th Anniversary of the Russian Fleet" and "850th Anniversary of Moscow".
{/slider} {slider=Main publications over the past 5 years (2015-2020)}
Flint M., Poyarkov S., Rimsky-Korsakov N., Miroshnikov A. (2020) Ecosystems of Siberian Arctic Seas-2019: Spring Processes in the Kara Sea (Cruise 76 of the RV Akademik Mstislav Keldysh), Oceanology, Vol. 60, No. 1, p. 134.

Flint M., Poyarkov S., Rimskii-Korsakov N., Miroshnikov A. (2019) Ecosystems of Siberian Arctic Seas 2018 (Cruise 72 of the RV Akademik Mstislav Keldysh), Oceanology, Vol. 59, No. 3, p. 460-463.

Development of Technology for Integrated Instrumental Underwater Observations Related to Russian Arctic Ecosystems

N. A. Rimsky-Korsakov, M. V. Flint, S. G. Pojarkov, I. M. Anisimov, Y. I. Belevitnev, A. A. Pronin and S. N. Tronza p. 612