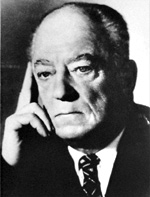 biologist, corresponding member of the USSR Academy of Sciences (1953), full member of the USSR Academy of Sciences (1968), founder of the All-Union Hydrobiological Society at the USSR Academy of Sciences and its permanent President (since 1952), Deputy Academician-Secretary of the Department of Oceanography, Atmospheric Physics and Geography of the USSR Academy of Sciences (since 1957); founder and editor-in-chief of the journal "Oceanology" (since 1961), editor-in-chief of many volumes of works of the Institute of Oceanology of the USSR Academy of Sciences, multivolume editions "Guide to Zoology", "Life of Animals", the monograph "Pacific Ocean", a member of a number of Councils through UNESCO, vice President of SKOR (1956-1962). Since 1917 he had been a member of the Department of Invertebrate Zoology at Moscow University, since 1930 he had been a professor and head of this department. From 1919 he took an active part in the organization of the Floating Marine Scientific Institute, in the construction of the first research vessel "Perseus", led many expeditions on the "Perseus" in our northern seas.
Since 1946, he was the head of the Benthos Laboratory of the Institute of Oceanology, and he headed the complex Oceanographic Expedition of the Institute of Oceanology of the Academy of Sciences for the study of the Far Eastern seas (1949-1952). He was awarded the USSR State Prize (1951) for oceanological research on board the Vityaz. He published over 300 scientific articles, over 10 books and textbooks, over 100 popular articles. For the monograph "Biology of the Seas of the USSR" he was awarded the Lenin Prize (1965). His famous concept of the biological structure of the ocean became the methodological basis of the Institute's many years of biological research on the scale of the entire World Ocean.
He was awarded the Lomonosov Prize of Moscow State University (1954), the Gold Medal of Albert I Prince of Monaco - the highest award of the French Oceanographic Institute, as well as two Orders of Lenin, the Order of the Red Banner of Labor, and the medal "For Valiant Labor."