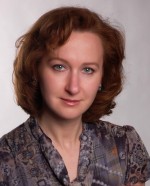 Acting Deputy Director for Scientific Work of Marine Geology
Head of Laboratory, PhD (Geological and Mineralogical Sciences)
Lisitzin Laboratory of physical and geological research
Marine Geology
Directorate of the IO RAS
36, Nakhimovskiy prospect, Moscow, 117997, Russia
+7 (499)124-77-37, internal phone 0692

Born in the city of Kaliningrad, Kaliningrad region.

From 1994 to 1999 she was a student of the Faculty of Geography, Kaliningrad State University, Department of Physical Geography and Environmental Management.
From 1998 to 2000 laboratory assistant, then engineer of the laboratory of geology of the Atlantic of the Atlantic branch of IO RAS. In 2000-2002 interned at Gothenburg University (Sweden) and at M.V. Lomonosov Moscow State University.

In 2003, she graduated from the graduate school of the IO RAS with a degree in Oceanology.
Since December 2003, he has been working in the Laboratory of Physico-Geological Studies of the IO RAS as a leading engineer, researcher, senior researcher, and since December 2016, a leading researcher.

In 2007 she defended her thesis on the specialty "Oceanology" on the theme "The material composition of the aqueous suspension of the White Sea".

Author and co-author of about 160 scientific papers, including 60 scientific articles in peer-reviewed scientific journals indexed in Web of Science, Scopus, RSCI, and 1 personal monograph. Member of numerous expeditions to the Arctic seas, the marginal and inland seas of Russia, the Atlantic Ocean, Antarctica.
She was awarded a medal of the Russian Academy of Sciences with a prize for young scientists for the work "Weighted Substances of the White Sea and Its Granulometric Composition" (Resolution of the Presidium of RAS dated February 22, 2011).

Winner of the 2010 Prize of the International Academic Publishing Company Nauka for the best publication in its journals (decision of the Prize Award Committee of November 22, 2011).
conditions and processes of modern sedimentation in the seas of various natural zones;
genesis and concentration of marine suspension;
processes occurring at the boundaries of the river – sea interaction, water – bottom sediment, particle – water;
processes of early diagenesis;
granulometry.

Major publications
Lein A.Yu., Savvichev A.S., Kravchishina M.D., Kozina N.V., Peresypkin V.I., Zakharova E.E., Veslopolova E.F., Mitskevich I.N., Shul'ga N.A., Lobus N.V., Politova N.V., Ivanov M.V. Microbiological and biogeochemical properties of the Caspian Sea sediments and water column // Microbiology. 2014. V. 83. No. 5. PP. 648–660.
Kravchishina M., Klyuvitkin A., Filippov A., Novigatsky A., Politova N., Shevchenko V., Lisitzin A. Suspended particulate matter in the White Sea: the results of long-term interdisciplinary research // Complex interfaces under change: Sea – River – Groundwater – Lake. IAHS Publ. 365. IAHS Press, 2014. P. 35–41.
Kravchishina M., Lein A., Burenkov V., Artem'ev V., Novogatsky A. Distribution and sources of suspended particulate matter in the Kara Sea // Complex Interfaces Under Change: Sea - River - Groundwater – Lake. IAHS Publ. 365. IAHS Press, 2014. P. 42–48.
Kopelevich O., Burenkov V., S. Sheberstov S., Vazyulya S., Kravchishina M., Pautova L., Silkin V., Artemiev V., Grigoriev A. Satellite monitoring of coccolithophore blooms in the Black Sea from ocean color data // Remote Sensing of Environment. 2014. V. 146. P. 113–123.
Sivkov V.V., Kravchishina M.D.,Klyuvitkin A.A. Suspended matter in the channel and adjacent slopes of the Rio Grande Rise // Abyssal channels in the Atlantic ocean. E.G. Morozov, A.N. Demidov, R.Y. Tarakanov, W. Zenk. Ed. by G. Weatherly. Springer: Dordrecht Heidelberg London New York, 2010. P. 159–165.
Politova N.V., Shevchenko V.P., Kravchishina M.D. Suspended particulate matter in the Russian Arctic seas // Seabed morphology of Arctic Russian shelf. Series: Oceanography and Ocean Engineering. New York: Nova Science Publishers, Inc., 2010, P. ISBN: 978-1-61668-509-6. P. 73–85.
Gordeev V.V., Kravchishina M.D. River flux of dissolved organic carbon (DOC) and particulate organic carbon (POC) to the Arctic Ocean: what are the consequences of the global changes? // Influence of Climate Change on the Changing Arctic and Sub-Arctic Conditions / Ed. Jacques C.J. Nihoul and Andrey G. Kostianoy. Springer in cooperation with NATO Public Diplomacy Division, 2009. P. 139–154.
Member of the Academic Council of IO RAS.
Member of the Scientific Steering Committee (SSC) of the GEOTRACES international project.
Member of the SCOR working group.