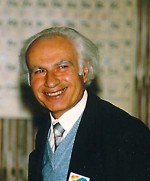 Artem Sarkisovich Sarkisyan was born on September 23, 1926, Gune-Kaler (now the Nagorno-Karabakh region). Graduated from Azerbaijan State University (Faculty of Physics and Mathematics) in 1950.
A.S. Sarkisyan in 1965-1969 worked in Sevastopol at the Institute of Marine Hydrophysics; in 1969-1982 - at the Institute of Oceanology of the Academy of Sciences of the USSR. Head of the Laboratory of Hydrology, Dynamics of Marine Currents at the Institute of Oceanology of the Russian Academy of Sciences. Chief Researcher, Institute of Numerical Mathematics, RAS.
Corresponding Member since 1981, Academician since 1992 - Department of Earth Sciences.
Specialist in the field of theory and numerical methods for modeling thermohydrodynamic processes in the ocean.
Research in the foundations of the theory and calculation of ocean currents (published in the USSR in 1966, in the USA in 1969), as well as numerical analysis and forecasting of sea currents, brought Sarkisyan world fame.
He was engaged in research and development of models of hydrodynamic processes of synoptic scale in the Black, Caspian, Barents and White Seas.
He prepared 28 candidates and 6 doctors of sciences.
Author and co-author of over 235 scientific articles and 13 books published in Russian, English and Chinese.
A.S. Sarkisyan - First Vice President of the International Association for Physical Ocean Sciences (IAPSO).
He was a Soviet representative in the international program "Investigation of the World Ocean Circulation" (WOCE), a member of the scientific advisory board of the International Center for the Exploration of the Arctic Ocean (Fairbanks, Alaska).
Laureate of the State Prize of the USSR and the State Prize of the Russian Federation.
He was awarded the Orders of Friendship of Peoples and of Honor.
He was awarded the Marine Drenov Gold Medal of the Bulgarian Academy of Sciences.