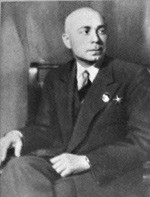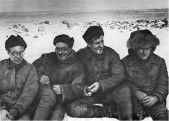 Ushakov Georgy Alekseevich (1901-1963, village Lazarevskaya, Amur region)
Outstanding Soviet explorer of the Arctic, geographer, doctor of geographical sciences (1950), deputy director of the Institute of Oceanology (1945-1948), full member of the Geographical Society of the USSR since 1926.
Honored Polar Explorer of the USSR.
His name has been immortalized many times on the map of the World: an island in the Kara Sea, a cape and a village on Wrangel Island, a glacier, a river and a cape on Severnaya Zemlya, a mountain in Antarctica.
The main aspects of activities at the Institute of Oceanology:
creation of a branch on the Black Sea in the Blue Bay of Gelendzhik;
receiving and re-equipment of the steamship Equator in the first research vessel of the Institute - Vityaz;
organization of geological and diving operations in the Caspian and Black Seas.
Georgy Alekseevich Ushakov was an excellent master of the camera. He left an archive of photographic plates taken during his expeditions to Wrangel Island in 1926-28 and to Severnaya Zemlya in 1930-32. On the basis of his archive, the IO RAS video studio in 2010 released a documentary film "One Hundred Skins of Unkilled Bears", which tells about the exciting expedition of the Ushakovs' quartet to the Severnaya Zemlya.

Memorial Expedition to Severnaya Zemlya
2011 is the year of the 110th anniversary of Georgy Alekseevich Ushakov, Doctor of Geographical Sciences, one of the founders of the IO RAS, First Deputy Director for Expeditions of the Institute, Honorary Polar Explorer. In mid-May, a memorial mini-expedition visited Severnaya Zemlya, where a polar explorer was buried.