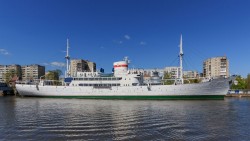 In 1949, the Institute received at its disposal the first research vessel "Vityaz" with a displacement of 5.7 thousand tons. It was a ship specially re-equipped for oceanological work, with the name of which is associated a series of scientific discoveries that glorified Russian science. At present "Vityaz" operates in Kaliningrad as a part of the Museum of the World Ocean.
The scientific fleet of the Institute, based in Kaliningrad, includes three large-tonnage vessels (with a displacement of more than 6 thousand tons) - "Academician Mstislav Keldysh", "Academician Sergei Vavilov" and "Academician Ioffe" and two medium-tonnage (over 1,000 tons) - "Academician Boris Petrov" and "Academician Nikolai Strakhov".
The ships are equipped with modern navigation systems, scientific instruments and equipment for complex expeditionary research.
In the difficult conditions of the 90s, the Institute managed to fulfill one of the main tasks - the prevention of destruction, the restoration and modernization of the scientific fleet. In recent years, the IO RAS has been constantly increasing the number of scientific expeditions on board the ships of the Institute. Almost all expeditions are of a complex nature and include nature conservation and ecological topics.
In Russia, a reform of the research fleet management system has been carried out. In the academic sector, the Ocean Expedition Center (OEC) was established, which centralized the functions related to the repair and maintenance of ships. OEC should ensure equal accessibility of all scientific organizations of the Ministry of Science and Higher Education of Russia to scientific research vessels.
The Ocean Expedition Center is part of the Institute of Oceanology.
The purpose and subject of the Center's activities are to ensure the efficiency of the use of the research fleet, to ensure the conduct of marine scientific expeditions by organizations subordinate to the Ministry of Science and Higher Education of Russia, using research vessels, scientific and / or technological equipment and other technical means installed on ships.
OEC includes the Atlantic Fleet Base in Kaliningrad, which is the largest scientific fleet base in Russia. In the future, OEC will be replenished with two more bases of the fleet - the Black Sea and the Arctic.